OpenEdge 11.4 Recorded Webinar Registration Page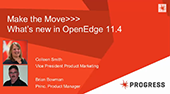 Learn why you should move your software development to Progress® OpenEdge® 11.4 today!
Watch the recorded version of our recent webinar now
Learn all the compelling reasons why moving your software development to OpenEdge 11.4 is a real "no-brainer." Hear Progress executives Colleen Smith, Vice President of Product Marketing, and Brian Bowman, Product Manager, Principal outline the investments Progress has made in OpenEdge 11.4 – along with all its new features and functionalities.
The webinar will also highlight how this latest version makes it easy to integrate OpenEdge with other Progress products, including Pacific® and Corticon®.
Watch the recorded webinar now >
Register Below for the Progress® OpenEdge® 11.4 Webinar