Rapid Application Development for Dummies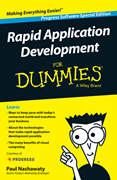 Building Android, iphone, or web apps? This complimentary and concise, information-packed e-book shows how the Progress® Pacific™ Platform as a Service (PaaS) helps businesses enhance productivity with the next generation of application development. The Pacific cloud-based platform offers high productivity and high control options, so businesses are able to rapidly build data-driven, high-performance multi-tenant enterprise applications and deploy them on any cloud or device – without the cost and complexity of buying and managing underlying infrastructure.
A must-read for any organization ready to embrace a fundamental new approach to app dev, this book is chock full of real-life success stories from world-class corporations around the globe. With the freedom to choose the data sources, deployment environments and business logic that best fit their needs, Pacific helps businesses turn their visionary ideas into reality.
Download the ebook now >>