THE OPENEDGE RULES 3-PART WEBINAR SERIES
What is OpenEdge Rules, when should you use it, and how is it helping world-class companies succeed.
Part 1: Introduction to OpenEdge Rules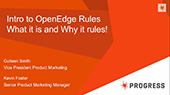 Learn what exactly a rules engine is, and why your business should use one. Discover how OpenEdge Rules delivers the high-performance, automated decisions businesses need to compete. And see how using a rules engine can speed deployment at a fraction of the cost because it avoids the need for "hard coding" in ABL.
Part 2: ABL vs OpenEdge Rules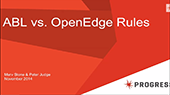 When should you use Advanced Business Language (ABL)? And when does OpenEdge Rules make more sense?
During this information-packed program, a Progress® OpenEdge® development guru shows you when ABL is the right choice. And when OpenEdge Rules is the ticket for you.
Part 3: OpenEdge Rules in Action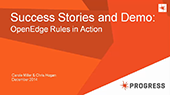 Part 3 features an engaging presentation of recent OpenEdge Rules success stories – along with an exciting product demo. See how Progress® OpenEdge® Partners and customers are using OpenEdge Rules to handle the complex, rapidly changing business logic that today's company strategies and policies demand.
Register to watch this webinar series >>