The Top 5 Trends in BPM
MWD Advisor's Market Insight: BPM in 2014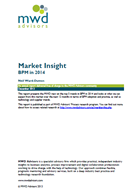 Written by industry expert Neil Ward-Dutton, this revealing, information-packed report examines the top 5 trends we can expect to see in the BPM space in the coming months – including the emerging technology and supplier trends. 
From mobile to Case Management to "bed in," this informative white paper examines the current "state of the nation" for BPM – while looking at where the adoption and practice of BPM is headed in the coming months.
Today, BPM is delivering process efficiencies of 30-40% at a wide range of companies. So make sure you keep pace with the latest BPM trends.
Read this complimentary white paper now >>