A true partnership.
Over the years, Progress has worked with more than 100 customers just like you, designing and developing comprehensive, world-class business intelligence solutions. We've partnered with clients across numerouse verticals – from small start-up organizations to Fortune 100s.
Our philosophy has always been the same: To create an high-impact solution, we need to understand the challenges and needs of your organization, as if it were our own. We don't begin design or development until we have the crystal-clear clarity we need to ensure our mutual success. Through our BI BluePrint process, we'll identify the requirements and begin to lay out a plan for implementation. You wouldn't build a house without a plan and solid foundation. Likewise, our comprehensive scoping process lays the foundation for your BI project's success.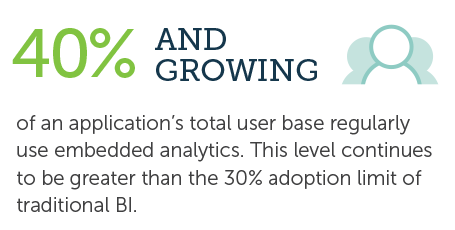 Credit: Logi Analytics' 2015 State of Embedded Analytics Report
FAST! Really, REALLY FAST!
By leveraging the pre-built content in Progress OpenEdge Analytics360, you'll have proactive insight into your data – much faster than you ever imagined. How fast? Often in a matter of a few weeks – not months or years like a traditional "from scratch" business intelligence project requires.
Before your CFO knows it, they'll be seeing the ROI and you'll be the hero of the organization!

Credit: Logi Analytics' 2015 State of Embedded Analytics Report
Why Reinvent the Wheel?
OpenEdge Analytics360 contains a host of cross-vertical Key Performance Indicators (KPI): sales, accounts receivable, accounts payable, general ledger, inventory, and more. We even have several KPI that are focused on verticals such as manufacturing, distribution, finance, and education. Our catalog of pre-built content continues to grow, and you'll always have access to the latest KPIs available.
It's all about empowerment
We realize that many of our customers don't have the in-house expertise to design and develop a business intelligence solution. You're great at what you do, but BI requires a completely different design methodology. One that our team of industry gurus know inside, out. We'll not only design and develop your solution, we'll even train and mentor your team so that your company can continue to extend the product as future needs arise. This isn't a closed off "black box" that requires a life long services commitment. You are free to modify and create new data load processes, data warehouse structures, and even new KPIs. The only limits are your data and your imagination.
Contact us for more detail on how Progress OpenEdge Analytics360 will transform your business.