A new revenue stream you never thought possible!
Here's a tremendous opportunity for Progress Partners. You can seamlessly embed business analytics within your software offering – creating a new revenue stream for your organization. Not only will you be able to better retain existing customers, you'll be able to attract new clients with a world-class business intelligence solution.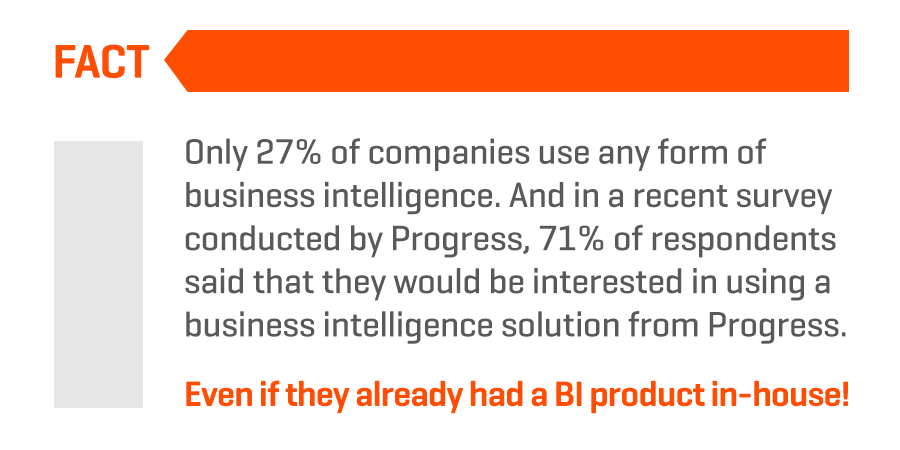 Faster revenue growth
On average, we find that software companies that embed analytics have 16% higher annual revenue growth. Revenue growth comes from three distinct areas:
New sales – gain new customers and increase average selling price.
Customer retention – increase retention rate and average renewal price.
Sales and marketing efficiency – increase opportunity and win rates; lower cost per lead.

Credit: Logi Analytics' 2015 State of Embedded Analytics Report
A partnership based on real service. Not just lip service.
When you partner with Progress, you'll not only have access to OpenEdge Analytics360, but our Professional Services team will work with you to design and develop your BI solution.
Our team of business intelligence industry experts have a time-tested, proven methodology for designing an impactful business intelligence solution. We take the time to understand the challenges and needs of your company and your customers. And once your requirements have been identified, our team gets to work designing and developing a customized solution using OpenEdge Analytics360.
But it doesn't stop there. We'll also train and mentor your team throughout the development process – ensuring that your organization is ready to take on future development and support of your BI solution.
We're also here to help your business! In addition to technical mentoring, we'll work with your business to get you primed to market, sell, and support your solution. We'll provide access to our library of sales material and help you create messaging that throws your sales process into high gear.
Ray Ackerlund of Skyward had this to say about their Partner enablement project, myDistrict360.
"The biggest thing for Skyward is that myDistrict360 allows us to provide a well-rounded solution for our customers. The use of data is increasingly more important for school districts because they need to identify trends and areas of improvement to be successful. This solution helps solidify our system as the entire package—everything that a school system needs to manage and analyze all of their data.
The collaborative efforts of Skyward and Progress were key to the success of myDistrict360. This kind of success has played out time and time again for the partnership."
As you can see, you'll get a lot more than just a BI tool with Progress OpenEdge Analytics360. You get a business intelligence partner that will be there with you, every step of the way. We'll make sure you're set up for success and can maximize every opportunity to increase revenue.

Credit: Logi Analytics' 2015 State of Embedded Analytics Report
Fast time to market...
Let's face it... business intelligence projects typically require a substantial investment of time and money. That is, until now… With Progress OpenEdge Analytics360, past Partners have begun presenting and selling their solution within weeks of the initial design phase. That's just a fraction of the time most business intelligence projects take. Rest assured that you're not just going to market faster. You're also implementing a solution designed and developed by business intelligence industry experts – without hiring expensive resources.
Here's what you get with Progress OpenEdge Analytics360:
Business Intelligence Tools & Server. Powered by Logi Analytics.
ETL tool to extract, cleanse, and consolidate your data.
Pre-designed data warehouse. (Including an OpenEdge Database License)
Our 360 framework.
Access to over 100 pre-built KPI from our ever expanding library.
Training and mentoring throughout the project.
Partner business enablement.
Don't be left behind...
Today, your customers are demanding business intelligence and data analytics. Don't let your application be iced out when your competition answers their call. Progress OpenEdge Analytics360 will raise your application to a level you never thought possible.

Credit: Logi Analytics' 2015 State of Embedded Analytics Report
Contact us today to arrange a demonstration and take the next step in the evolution of your application.